Get Ready for 2021 with savings on
Medianet's Contacts Database
For a limited time, Medianet is offering 25% off Medianet's Contacts Database to farewell 2020!

Build your media lists in minutes with quick-insights and stack-and-save list building tools.
Lists are kept up-to-date for you. Receive real-time updates when there are changes to contacts on your lists.
Learn all there is to know about a journalist before you pitch to them. From pitching preferences, personal interests to preferred coffee orders.
Save yourself countless hours of work and let our Australian-based research team find the latest updates, insights and new media outlets. We make over 14,000 updates and additions each week.
Our team is your team. Reach out at any time to suggest an update or request a subject area for us to research for you.
Stay on top of all the latest media news with Media Movements. Updated on the site throughout the day and summarised twice weekly for your in our Media Movements newsletters.
* Valid until 11th December. 2020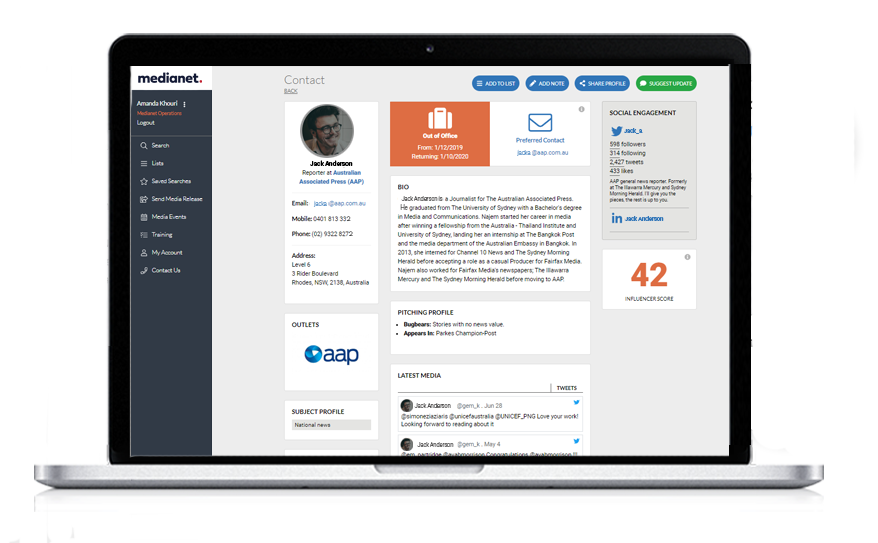 For more information get in touch today!
Contact our customer service team for all enquiries.
Identify and connect with your top media contacts
Pitching profiles:
Go beyond just names and titles with our pitching profile features for precision targeting. View journalist's pitching preferences, preferred contact method, likes and dislikes, deadlines, personal hobbies and more.
Intelligent media mapping
Navigate Australia's media landscape at your fingertips through our simple interface designed to help you find the right contact. Explore new outlets and contacts to discover new pitching opportunities.
Social Engagement
Connect socially with journalists to grow your media reach with a complete view into a contact's social media activity. Discover their Twitter, Instagram, Facebook and LinkedIn profiles.
Terms & Conditions:
* Offer only available to new clients of Medianet's Contacts Database
* Offer ends on Friday, 11th December 2020 at 5:00 pm (Sydney time)
* Offer price is only valid for the first term of your Medianet's Contacts Database licence
* Subscription includes access to the Australasian module only (Australia, NZ and Pacific Islands)

* Offer only available on a 6 or 12 month licence term

*Unlimited licences valid until June 30, 2021. At the end of the free additional licences offer only one concurrent user will be permitted. Additional licences can be purchased